A Few Words About Us
---
XIAMEN JIEMAILONG UMBRELLA CO.,LTD. Was founded in 2000 . Our Factory was located in China umbrella Capital–JINJIANG DONGSHI TOWN. Currently we have more than 500 workers in factory, and covers 20000 M2 working area. Our umbrella products are exported to more than 60 countries that include The United States, U.K., Japan, Ukraine, Russia, Dubai, brazil and so on.
We can supply OEM and ODM Service, we supply straight umbrella, 2 folds, 3 folds, 4 folds,5 folds umbrella . we also can supply umbrella parts, frame, triangle panel and so on.
Company always follow idea of "first class Talents, first class products , first class quality standard" to create a "China famous Brand"
Welcome to contact us for various business and cooperate.
VEDIO for our factory:
Sales Manager
Xiamen Jiemailong Umbrella Co.,Ltd.
Email: sales@jiemailong.com
Gmail: jiemailong@gmail.com
Company Web: http://www.jiemailong.com
Alibaba Web: http://jiemailong.en.alibaba.com
Alibaba ID: jiemailong
Skype ID: jmlumbrella@outlook.com
Facebok ID / Linkedin ID / Google+ : jiemailong@gmail.com
Twitter ID: @jiemailong
Twitter Web: https://twitter.com/jiemailong
Google+ Web: https://plus.google.com/102851550724712840375
Personal Facebook web:
https://www.facebook.com/feng.peng.73744
Personal Linkedin Web:
http://www.linkedin.com/in/feng-peng-18b46013a
WhatsApp : 0086-13194060536
WeChat: pengfeng0536 ; QQi or QQ: 452772582
TEL.: 86-592-5280297 FAX:86-592-5280353
Mobile: 86-13194060536/18030308527/15060839331
Add: Room No.1608--1609,Hualong Building, Hubing East Road, Xiamen City, Fujian, CHINA
Factory Add:No.19-12,17TH Area,Anpin Industry Zone,Anhai Town,Jinjian City, Fujian, CHINA
Richard
salesman
Xiamen Jiemailong Umbrella Co.,Ltd.
Email: sales@jiemailong.com
Gmail: jiemaiong@gmail.com
Alibabab ID: jiemailong
Company Web: www.jiemailong.com
Alibaba Web: http://jiemailong.en.alibaba.com
Skype : jmlumbrella@outlook.com
Facebok: jmlumbrella@outlook.com
Linked in: Jack (JML Umbrella) luo
Liked in Web: http://cn.linkedin.com/in/jiemailong
WhatsApp/mobile: 0086-13959794013
WeChat:richard237858
Add: Room No.1608--1609,Hualong Building, Hubing East Road, Xiamen City, Fujian, CHINA
Factory Add:No.19-12,17TH Area,Anpin Industry Zone,Anhai Town,Jinjian City, Fujian, CHINA
Umbrella production process
---
One windproof, sunproof & rainproof umbrella looks simple but It needs more than 30 large and small working procedure. And most of the process are all hand made. So every umbrella is a handicraft, brainchild of all workers. Now I will introduce some of the umbrella productions process so that everyone understands that every umbrella is hard-won.
Process One : Big Cutting

The so-called big cutting is that the rolls of umbrella cloth are cutted into the young body of strip shape one by one. This program can be done with a cloth cutting machine or workers use a blade.
Process two : Small Cutting

A small cut is that strip shape umbrella cloth cut into pieces of triangles, as an umbrella umbrella surface. Workers first made a triangle with some wood . The wooden triangle is worn on the umbrella cloth, and then workers use the blade pieces carefully cut out, this program is completely done by hand, not using any mechanical
Process three : umbrella printing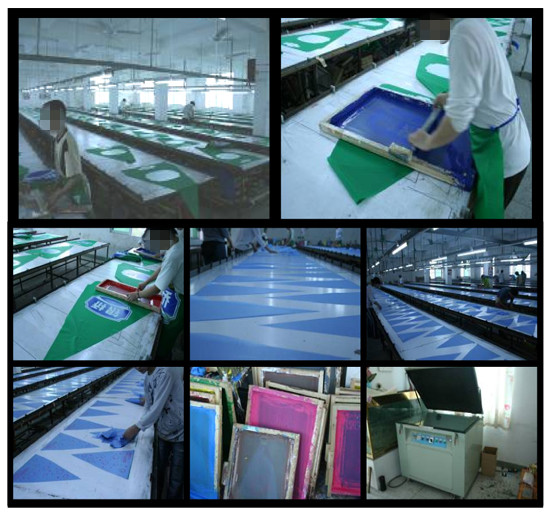 There are several methods of printing will be use on the umbrella production, of which the heat transfer and silk screen printing are most common. Here we will use screen printing as an example. With the net machine first to make a halftone and fix the net halftone in a square wooden frame. After that workers pour the paint to the wooden frame, then put the wooden frame to cover on the triangle umbrella cloth, oil flicking light a few times, design will be printed on the umbrella cloth. This program can use mechanical or people. The characteristics of the silk screen printing is bright and clear design color. and it is mostly to be used in print the solid color design or company logo.
Process four : close triangle umbrella cloth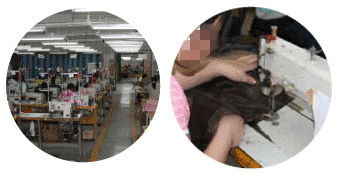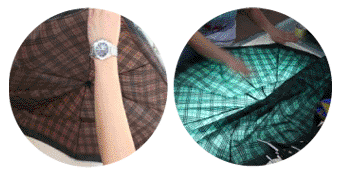 After Screen printing completed, put the triangular pieces to be sutured the umbrella clothing car s. Different kinds of umbrella, umbrella below the number of triangles is different, from 6 to 24 pieces. Workers sew each piece of triangles and this step is very important, sewing machine needles to young, pin number is enough, otherwise there will be water seepage during raining.
Process five : fix umbrella bead or tip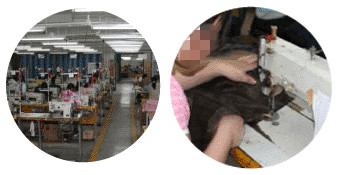 After completion of the umbrella surface, each corner is fitted with umbrella bead or tip by a special machine. Umbrella bead or tip is the important accessories to fix the umbrella surface on the umbrella frame. The umbrella tip's material is plastic or metal and it has many shapes available.
Poduce 6: fix umbrella frame

This program is to joint an umbrella surface and bone together. Workers must stitch the umbrella surface and frame together by hand and No machine can't be used. In every umbrella rib, workers usually use two to three knot , tied to umbrella ribs and umbrella surface.
Process seven fix umbrella handle

This program is to put the handle connected to the shaft, as seen above, the workers put the iron shaft with fire heating, put on the plastic handle, so you don't need to use any glue, but different material to be combined in different ways. such as wooden shaft which are fitted with wooden handle by using the hot melt adhesive.
Process eight: Quality control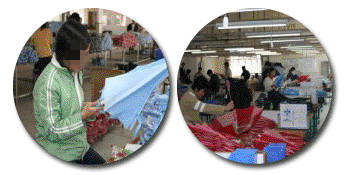 Each umbrella before delivery, they will be sent to the quality testing department test quality. Workers have a set of complete program test each umbrella. Such as switch is smooth or not, there is a stain or not, printing is perfect or not testing steps, such as the departments for manual operation.
Process nine packing

The umbrellas passed QC testing will be sent to the packing department. The workers put these umbrellas into the cartons. The umbrellas with different size will be packed in different cartons. And every umbrella covers an independent transparent plastic bag. Finally, cartons will be Orderly stacked on the pallets and wait for sending to the customer assigned locations.
After the above simple introduction, hope everyone know that each umbrella is hard-won and workers' hard work results, hope readers can cherish them and to be more grateful in using umbrellas every time.